Dental Implants
Missing and damaged teeth are a common problem for many people. If you're missing your natural teeth or have loose teeth or ill-fitting dentures then this can have serious consequences for your health, happiness and quality of life.
Patients with missing teeth tell us they don't have the confidence to smile or eat the food they want. Some people experience muscle strains and discomfort as their remaining teeth shift. But life doesn't have to be this way. One of the biggest recent advances in dentistry is the success of dental implants.
We also offer the innovative 'All-on-4″ dental implant treatment, known as 'Teeth in a Day'. Click here for details on our All-on-4 page.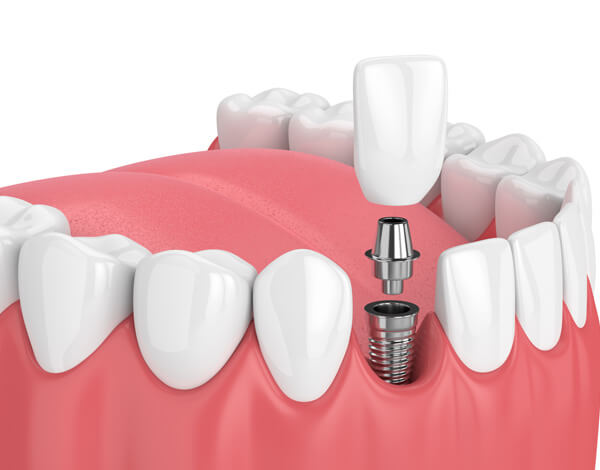 Dental Implant FAQs
What is a dental implant?
Dental implants are artificial tooth roots used to support a restoration for a missing tooth or teeth, helping to stop or prevent jaw-bone loss. The implantation procedure is categorized as a form of prosthetic (artificial replacement) dentistry, but also is considered a form of cosmetic dentistry.
The implant is placed in the bone of the upper or lower jaw and allowed to bond with the bone and serve as an anchor for the replacement tooth. Dental implants can be used to replace a single lost tooth or many missing teeth. Implant-supported replacement teeth look, feel and function like natural teeth. Dental implants are a proven restorative option with a long clinical history. Dental implants preserve the integrity of the facial structure and reduce the inconvenience associated with tooth loss.
Who is a candidate for dental implants?
Anyone who is missing one or more of their teeth due to injury, disease or decay may be a candidate for dental implants. If one, a few or all teeth are missing, dental implants in conjunction with a crown or bridge can replace those teeth.
Occasionally, older patients express concern that their age may prevent them from enjoying the benefits that dental implants offer. However, health is more of a determining factor than age.  Your Rose Garden dentist will determine if you are a candidate for dental implants after a careful evaluation of your dental and medical health history.
At your initial appointment, your dentist will thoroughly examine your teeth and gums and evaluate bone density and quantity. This may involve x-rays and computer tomography scans to ensure there is sufficient bone structure for placing the implant, and to determine exactly where it should be placed.
All your questions will be answered at your initial consultation.
How long do dental implants last?
On average dental implants last for a period of 15-20 years, with worldwide data showing 95% of implants lasting for this length of time. While implants can last beyond this period, due to many factors they usually last around 20 years.
How long dental implants last will be impacted by how well the patient looks after them. They must be cared for as if they were natural teeth with regular dental hygiene appointments, good oral maintenance and dental check-ups to make sure there are no problems.
If cared for properly, dental implants can remain in place for a considerable length of time.
How long does dental implant treatment take?
Healing from the surgical procedure to place the implant(s) takes up to six months, while the fitting and seating of the crown(s) can take up to two months. Again, this time frame depends on individual cases and treatments. Follow-up appointments are essential for monitoring your progress.
Treatment time will vary depending on your particular situation. Nowadays it is often possible to get well-functioning and aesthetic looking teeth within a few days. In some cases it may be necessary to wait longer before finishing the restoration in order to obtain an optimal result.
If you're interested in dental implants in Kingsbury, Queensbury, Edgware, Harrow, Wembley or in the North London area, contact Rose Garden Dental Practice today.